Fall Fundraisers
Fun Pasta Fundraiser (ends October 21st)
SPRINGFIELD SDA JUNIOR ACADEMY is fundraising with Fun Pasta Fundraising!
We are raising money for our new roof and other necessities and we are needing your help in reaching our fundraising goal. We'll earn 40%  profit from every sale. 
No cash or checks collected. All sales are placed on credit cards.
You may pick up your product at the school, or have your product shipped directly to your home.
***FREE shipping option is available for LOCAL BUYERS if orders are placed on the app ONLY*** You may contact a parent to place your order OR download the app (it's free) and input our join code: PX972U to place your order!
MANY THANKS FOR HELPING US REACH OUR GOAL!
If you have any questions, please contact Cindy Pope (619) 948-0308
Click on the link below ⬇️ ⬇️⬇️ to place your order!
Buff City Soap Fundraiser (November 1st 4-7pm)
Come to Buff City Soap across from Battlefield Mall in Springfield on Monday, November 1st from 4-7pm and when you purchase anything in the store, 10% of all in-store sales gets donated to our school!
Products include: hand/body/facial soaps, body scrubs, bath bombs, body/ beard oils, laundry soap, etc. All of these make great gifts!
Location address: 2750 S Glenstone, Springfield, MO 65804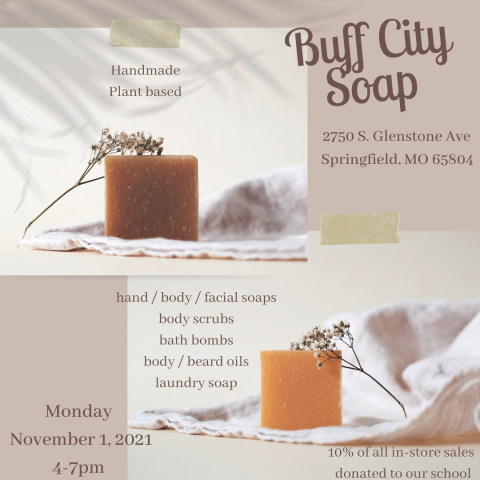 How Else Can I Support the School?